THIS IS OUR NEWEST PERENNIAL. IT IS AN ORIENTAL LILY CALLED "DIZZY."
IT IS ABSOLUTELY BEAUTIFUL AND IS ALSO VERY FRAGRANT.
THIS IS OUR "STARGAZER" LILY. THIS VARIETY HAS BEEN AROUND FOR A LONG TIME AND IS USED IN FLOWER ARRANGEMENTS BECAUSE OF ITS BEAUTY AND FRAGRANCE.
THE GAILLARDIA IS A BLANKET FLOWER. WE NOW HAVE 3 DIFFERENT VARIETIES...
"BURGUNDY, FANFARE, AND GOBLIN"
THE CLEMATIS IS ONE OF THE MOST POPULAR CLIMBING VINES. IT IS USED TO LIVEN UP DULL SPACES LIKE FENCES AND ARBORS. THEY ARE GROWN FOR THEIR BEAUTIFUL FLOWERS.
THIS ORIENTAL LILY IS CALLED"MONA LISA" IT IS FRAGRANT AND BEAUTIFUL. THIS PERENNIAL WILL BE ONE OF OUR BEST SELLERS FOR 2007.
Oriental Lily "Mona Lisa"
THE LUPINE IS NOW AVAILABLE IN RED, WHITE, YELLOW, AND BLUE. THIS IS ONE OF MY FAVORITES. IT JUST GETS BIGGER AND BETTER EVERY YEAR. IT ALSO THROWS OUT LITTLE BABY LUPINES TO MAKE FOR A MASSIVE DISPLAY. I HAVE ONE PLANTED IN MY LANDSCAPE AND THE CUSTOMERS JUST LOVE IT.
THIS IS RUDBECKIA, ALSO KNOWN AS A BLACK-EYED-SUSAN. I LOVE IT PLANTED WITH ECHINACEA AND SHASTA DAISIES.
THIS PERENNIAL ALSO GETS BIGGER AND BETTER EVERY YEAR.
Rudbeckia (Black-Eyed-Susan)
THIS PERENNIAL IS THE CLASSIC SHASTA DAISY, "LEUCANTHEMUM". THIS IS A VERY POPULAR PERENNIAL, IT BLOOMS ALMOST ALL SUMMER. IT IS BEAUTIFUL WHEN PLANTED WITH ECHINACEA AND BLACK-EYED-SUSAN.
WE OFFER MANY MORE PERENNIALS, PLEASE SEE SEE BELOW FOR MORE PICTURES. AND CHECK THE OUR PRODUCTS PAGE FOR MORE DETAILS.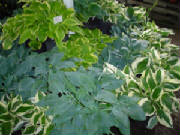 HOSTAS SEE OUR PRODUCTS PAGE FOR VARIETY LIST
DAYLILIES ATTRACT BUTTERFLYS!
DAYLILIES! BEAUTIFUL WHEN MANY VARIETIES ARE PLANTED TOGETHER! SEE OUR PRODUCTS PAGE FOR VARIETIES